Accommodation
Group rates have been arranged through the following hotels in downtown Victoria.Note that all rates are given in Canadian dollars.
University of Victoria Student Housing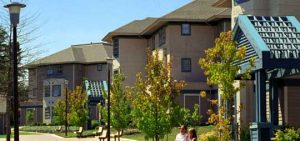 Website: www.uvic.ca/residence/visitors/
3800 Finnerty Road
Victoria BC V8P 5C2
Map
Accommodation for conference attendees is available right on campus. CARFMS has secured a special group rate:
Single dormitory – $47.00 per night
Twin dormitory – $56.00 per night
Single apartment- S103.00 per night

Attendees who wish to book can call the front desk at 250-721-8395 and ask for the CARFMS Group rate or email at bookings@uvic.ca.
Inn at Laurel Point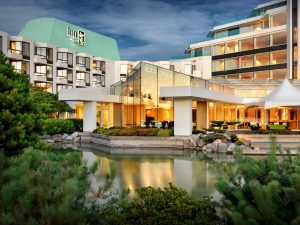 Website: www.laurelpoint.com
680 Montreal Street
Victoria, BC V8V 1Z8
Map
Stay at our Victoria BC hotel, and you'll stay different than anywhere else. So if you are here for a nice leisure getaway, attending a conference at the University of Victoria, or making use of our meeting space; we've got you covered. You'll even rest different – comforted by uncluttered interiors in your quiet ocean-side retreat. The only music is the harbour's symphony: the honking of distant geese and sailboat rigs clinking in the breeze. So come. Stay where being different in so many ways is our very best feature of all.
The Laurel Wing Guest Rooms are traditional, standard styled rooms. They are available with one king bed, two double beds or a king and a hide-a-bed. These rooms feature private balconies and views of the water united with the beautiful bright green peninsula we so proudly inhabit.
$179 a night based on double occupancy.
Amenities
Triple sheeting
In-room coffee and tea
Waterview
Standing balcony
Wireless internet
Optik TV
Aveda amenities
Sumptuous robes
Movies on-demand
Half-size refrigerators
Special CARFMS rate in available. Rates based on availability. Book early to secure this preferred group rate.
Guests who wish to book the preferred rate are asked to call toll free 1-800-663-7667 and ask for the CARFMS Group or email the Inn directly at reservations@laurelpoint.com
Hotel Zed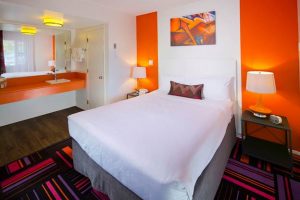 Website: www.hotelzed.com
3110 Douglas St
Victoria BC, Canada V8Z 3K4
Toll free: 1-800-997-6797
getAbed@hotelzed.com
Map
Who's Zed Victoria? We're a ridiculously fun & eclectic hip hotel in Victoria BC that is so completely awesome your mind will be blown!
Ok, slight exaggeration, but we swear it's like nothing you've ever seen before: Classic VW shuttle buses, typewriter station, vinyl listening station, pool &Zedinator waterslide, ping pong lounge, free rental bikes and comic books in the rooms… We are Rebels Against the Ordinary
Group Name: CARFMS 2017 Conference
Preferred corporate $120 per room, per night plus taxes
To book please call tool free 1.800.997.6797 and quote "CARFMS 2017 Conference" or book online at www.hotelzed.com. Booking code: UVIC
COMPLIMENTARY VALUE-ADD INCLUSIONS AT HOTEL ZED:
Parking including oversized vehicles
Motorcoach parking with tour group staying at Hotel Zed
WiFi
Local telephone calls
Coffee/tea in hotel lobby
Comic book
Newspaper in hotel lobby
Bike rentals
Longboard rentals
Classic Volkswagen shuttle service
Vinyl listening station in hotel lobby
Board games, books, magazines in hotel lobby
Activity entertainment lounge (ping pong tables, Wii, Rock Bank, Samsung 50" LED TVs)
Waterslide, swimming pool, jacuzzi, sauna
Harbour Towers Hotel & Suites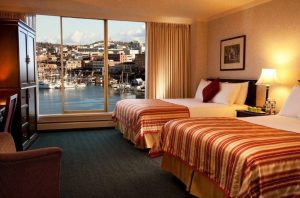 Website: www.harbourtowers.com
345 Quebec Street,
Victoria, BC Canada
Toll Free: 1-800-663-5896
Map
Harbour Towers Hotel & Suites continues to deliver satisfaction to all of our visitors staying with us short-term, long-term, for business or just as a visit. Book a stay at our hotel, and you will soon learn why our customers keep coming back. Take your pick from our standard and superior bedrooms, or reward yourself in our one- or two-bedroom, or penthouse suites offering you an ocean or city view.
Standard Room – $138
King Bachelor – $158
King Ocean – $188
Room rates based on availability. Call 1-800-663-5896 and quote group name "CARFMS 2017" to secure these special rates.