by Michaela Hynie, CARFMS President.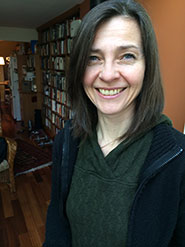 As I write this, I am sitting on a train from Poznan to Warsaw with several CARFMS members, having just attended the 2016 meeting of our sister organization, the International Association of Studies in Forced Migration (IASFM). Four hundred delegates from around the world met for four stimulating, enriching and thought provoking days.
A graduate student working in refugee camps in Jordan noted that we often feel isolated in our work and can feel marginalized in academic settings where only one or two other participants share our interests. It is rare and exciting to spend four days surrounded by colleagues who know and care so much about forced migration. But these were also four days of dramatic upheaval and violence in Europe. The deaths in Nice and the coup attempt in Turkey added to the sense of anxiety and urgency that permeated the sessions.
Challenges and Opportunities
Forced migration has become a topic of increasing attention, but also of increasing conflict and political posturing. Nando Sigona from the University of Birmingham demonstrated that the EU interventions around Mediterranean marine crossings of those seeking refuge in Europe removed effective rescue systems and ultimately closed the safest crossing routes, decisions that predictably resulted in increasing death rates. Presentations from multiple countries highlighted promises of resettlement that led to little or no action, as the political discourse was distorted away from safety to one of security, and evidence was overshadowed by rhetoric and legal frameworks failed to protect the most vulnerable.
But there was also a theme of hope, strategies for the future, and glimpses of a way forward. Susan Martin of Georgetown University identified key levers in moving policies toward provide more support and welcome for those forced from their homes. Discussions on several panels highlighted the need to create spaces for multiple voices (and multiple languages!) in refugee research. The Forced Migration Narratives stream of papers emphasized the inclusion of the voices of those who themselves have experienced, or are experiencing, forced displacement, and the need to consider using alternative methods of communication and representation, for example video.
What was remarkable for me was the number of presenters who spoke of communities' resistance to the politics of exclusion and fear: Community members flooding NGO phone lines, wanting to know how they could contribute to their efforts; crowds in the Munich train station, coming together to welcome new arrivals; religious leaders uniting to condemn the language of hatred and fear.   Thus, I start my term as President at a time of challenges but also of tremendous opportunities.
Building on our Knowledge and Networks
Canada, and CARFMS, had a strong presence in IASFM, showing the depth and breadth of research into forced migration in Canada. I am stepping into the role of President at a moment when CARFMS has the potential to have tremendous impact. It has been a long time since Canadian policy makers have been so enthusiastic in seeking researchers out to share knowledge. There is also great interest in Canadian models of resettlement in other resettlement countries. We have a tremendous opportunity to inform policy and practice in Canada, but given the wide interest in our settlement strategies, also in other resettlement countries around the world.
CARFMS has grown steadily since its creation, responding to the desire for those of us working in forced migration to have a space to come together to share our work and foster new collaborations. Each president has left their mark, building on their own networks in their particular areas of research to broaden the reach of CARFMS while benefiting from the ongoing contributions of the existing networks and strengths of those who came before. I hope to continue this legacy and to follow the leadership of my predecessors in this regard. During my tenure as President, I hope to increase the participation of practitioners and to connect CARFMS to refugee health research organizations in Canada. I also hope to further our engagement with student groups, who are the practitioners and researchers in the field both now and in the future.
I have the benefit of the experience of many former presidents who continue to support, guide and promote CARFMS, an enthusiastic and talented executive, and a membership made up of some of the most important and promising researchers in forced migration today. I am particularly grateful to be able to rely on Idil Atak, the outgoing president, who has already been invaluable in the transition to the new administrative responsibilities, and to the work of Idil, James Simeon and the members of the executive in identifying new sites for the next CARFMS conferences. Following the great success of our meeting in Winnipeg this May, organized by Stephanie Stobbe and her team at Menno Simons College, I eagerly await our upcoming meeting at the Centre for Asia-Pacific Initiatives' Migration and Mobility Program in Victoria, for which the planning is already underway.
I look forward to working with you all to identify how we can best confront the current challenges in refugee and forced migration research, both in Canada and around the world. CARFMS is a space where we can build our networks, learn from each other, and collaborate to seize the current opportunities to shape the path of forced migration in the years to come. Thank you for the chance to play a role at this important time and in this welcoming community.