Bilingual Workshop on Tips and Tricks for Presenting at a Conference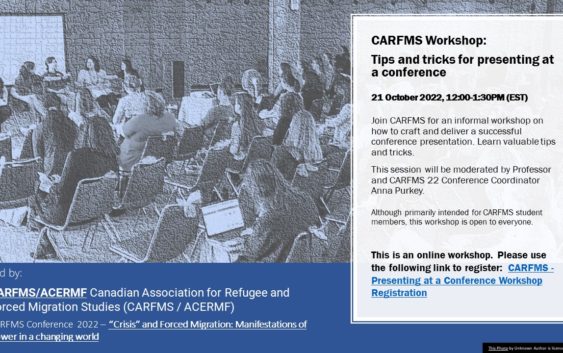 Friday, October 21, 2022, 12:00-1:30PM (EST)
To attend register here
So, your proposal has been accepted and now you have to present your work before your peers. Nervous? Not sure how to start? The Canadian Association for Refugee and Forced Migration Studies is organizing a series of virtual skills-based workshops for students and those new to academia. In light of our upcoming conference in November 2022, the second of these will focus on how to construct and deliver a successful conference presentation.
Join Professor and CARFMS22 Conference Organizer Anna Purkey (United College at the University of Waterloo) for this valuable discussion and learn tips and tricks for making your conference presentations stand out.
This workshop is being held in preparation for CARFMS 2022 – "Crisis" and Forced Migration: Manifestations of power in a changing world.
All are welcome to attend.