CARFMS mourns the recent passing of Barbara Harrell-Bond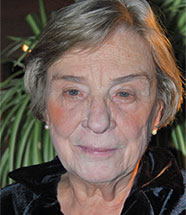 Every one at CARFMS mourns the loss of our great teacher, friend, and scholar, Barbara Harrell-Bond.
We send our condolences to her children, grandchildren, friends, and the countless refugees and advocates whose lives she touched.
Barbara's energy and dedication to others, and her uplift and support of the disciplines of refugees studies and legal anthropology, are immeasurable. Barbara will always serve as an inspiration to CARFMS.