Interview for 'Notes from the Field': Jennifer Hyndman, by Rachel McNally

Interview with Jennifer Hyndman, by Rachel McNally
We discussed the politics, practices, challenges, and 'mutual citizenship' goals of private refugee sponsorship in Canada as well as exciting research projects shedding new light on this Canadian model of resettlement.
Jennifer Hyndman is the Director of the Centre for Refugee Studies at York University and a geographer who investigates how space and place impact the lives of refugees.
Rachel McNally is a refugee sponsor and a Politics student who recently completed her Honours research through Acadia University about refugee sponsorship in rural Nova Scotia.
With the recent Syrian resettlement initiative, as well as the launch of the Global Refugee Sponsorship Initiative in 2016, there is increasing global attention on Canada's private refugee sponsorship model. As Director of the Centre for Refugee Studies at York, Jennifer Hyndman maintains a busy research agenda with her own projects and many collaborative research projects. Recently, several of these projects have focused on refugee sponsorship in Canada, both in relation to the recent Syrian resettlement initiative, as well as to nearly four decades of sponsorship involving refugees from many countries of origin.
Jennifer is currently interviewing Canadians who arrived to Canada as sponsored refugees between thirty and forty years ago, such as Vietnamese refugees who came between 1979 and 1981. Most studies of refugee sponsorship are short-term; but this study explores private refugee sponsorship over the long-term. Some sponsors have done this work for more than 3 decades. Jennifer and her collaborators are interested in where the former refugees are now in relation to where they originally resettled, and what they think about sponsorship several decades later. Another aspect of the project is investigating why some people, communities and groups continue to sponsor refugees consecutively over many years, even decades, and what characteristics these long-term sponsors hold in common.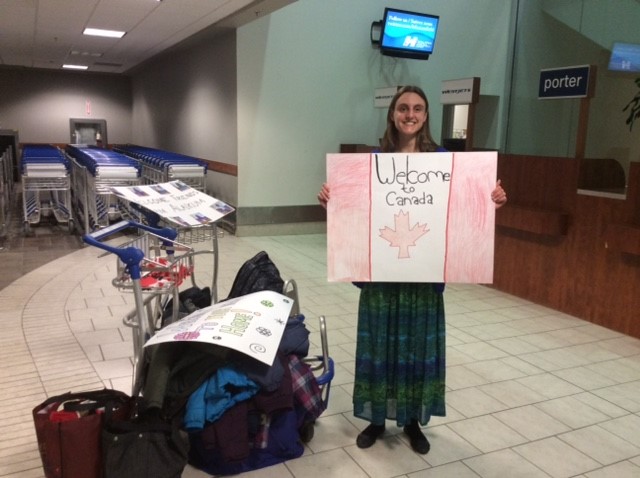 An ongoing project with Audrey Macklin (PI), Luin Goldring, Anna Korteweg, and Shauna Labman, focuses on sponsors, drawing from a new dataset of more than 500 surveys with sponsors of Syrians who came after November 2015 across Canada. A paper in progress explores age, class and other demographic trends of refugee sponsors.
As a researcher whose work intersects closely with policy, Jennifer sees policy analysis as vitally important. She embraces the role of the public intellectual: an academic is arms-length from policy-makers; s/he can offer critical yet constructive analysis of policy and create new evidence to improve it. She suggested that the best way to change policy is "not by screaming and shaming but by discussion." If academics can offer evidence-based critical analysis to policy-makers, then meet directly with policy-makers to discuss their findings, then these actors are more likely to listen.
Jennifer shared an example of how the current government listened to academic concerns about the private sponsorship policy around sub-caps. Sub-caps were limits on the number of refugees that Sponsorship Agreement Holders could apply to sponsor out of particular visa offices. A Sponsorship Agreement Holder is a local, regional or national organization that has signed an agreement with the Minister of Immigration, Refugees and Citizenship Canada to resettle refugees from abroad through the Private Sponsorship of Refugees program. The sub-caps applied limits on the number of refugees who could be sponsored from specified Canadian visa posts that serve particular regions and countries, mostly in Africa. Following the lead of the Canadian Council of Refugees, she shared her analysis of and data on this official practice, which discriminated against certain regions, with civil servants. In turn, they were able to persuade the elected officials – the official policymakers – to remove the subcaps on visa posts in December 2016. Along with William Payne and Shauna Jimenez, she detailed this analysis in a 2016 policy brief.
Jennifer sees a big challenge with both private and government-assisted refugee sponsorship as ensuring that refugees receive enough support, especially financial support, so that they are not caught in a poverty trap. One complicated issue is that the minimum financial support rates promises for refugees are extremely low to meet basic needs, falling below Statistics Canada low-income cut-offs. Most resettled refugees have to repay the cost of their transportation to Canada from this modest stipend.
If she could change one thing about how refugees are treated in Canada, Jennifer would like us to consider avoiding using the term "refugee". Not only are resettled refugees permanent residents upon arrival (they are no longer refugees), she sees this language as a tacit form of othering and excluding. Despite being Canadian citizens and active members of local communities, people who arrived to Canada years or decades prior may still be called refugees. Instead of using terminology that separates refugee-background people from other residents, we ought to recognize the skills, experience, and aspiration of these newcomers, and strive for inclusivity. Our language matters: refugees on arrival are permanent residents, neighbours, parents, Torontonians. She hopes we can go beyond a host-guest relationship between Canadians and refugees, and include newcomers as co-members of our communities in a kind of mutual citizenship.
Students finishing their undergraduate degrees should seek to challenge themselves to accomplish things that they want to do but are unsure are achievable. Jennifer says to "pick something that you are passionate about, whether academic or not, and pursue it with all the energy, love, and dedication you can give, and see where it takes you."